Brian Arnold on Global Warming, V9 @ Eratica
Jesse Bonin on the FA of Milk Money, V12 @ Crater Lake, Tahoe
Crater lake boulder...
Brian Arnold on Smooth Boy Slim, V9 @ Burnside
Me on Sisyphus, V8 @ Sugarpine
Siemay Lee on Skull Fucker, V9 @ Sugarpine
David Outcalt on Alcatraz, V10 @ Prison Hill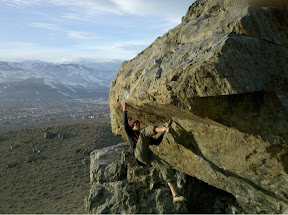 All or Nothing, V10 (tentative) @ The Mountain Beavers. photo Brad Perry
Welcome to The Future, V11 (photos Doug Ayers)
Seek perfection of character, respect others & Try Hard. Noah as usual.